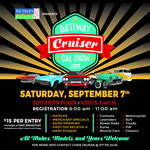 The Annual Miracle Mile Car Show is scheduled for Saturday, September 7th. Open to all Hot Rods, Customs, Muscle & Classic Cars, Trucks, Specialty Vehicles, Motorcycles and New Gen. We will have the show Rain or Shine! Delicious Free Breakfast served to all registered car owners at 8:00 a.m. and the show will begin at 9:00 a.m. The first 150 entries will received a Dash Plaque. Top 15 Judged Awards along with Specialty and New Gen winners. What better way to show your pride for the Southside than to participate in the Miracle Mile Car Show. Prizes, Food and the smell of high octane fuel! Proceeds from the car show will be used to maintain the Gateway Arch Landscaping which is located on the Madison Avenue "Car Cruising Strip" from the old days.

Car show flyer

Car show registration form

For more registration information, please contact Chris Truran 317-791-0420.